How do I view charts?
When you attempt to view a chart on the Fairbanks web site you may see a pop-up window that says Did you notice the Information Bar?
Click OK.
Towards the top of the pop-up window you may see a yellow bar (the Information Bar) that says This site might require the following ActiveX control: 'teechart7Langs.cab' from 'Steema Software SL'. Click here to install.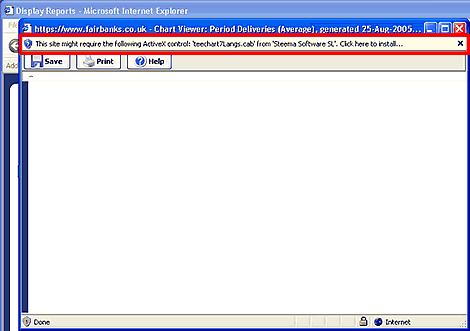 Click on the Information Bar.
Click on Install ActiveX control.
In the dialogue box that asks Do you want to install this software?, click Install. This will install the Steema TeeChart ActiveX object, which is required to be able to view charts created by the web site.
There may be a delay whilst your computer downloads the software required to display charts.
The chart should now display.